Mild Steel Prefabricated Resort for House

Introduction:-

Established in 2014, Univac Furncrafts Private Limited is a part of world reknown Univac group ofcompanies that came into the existence 25 years ago. Univac is an enterprise that provides active assistance in import & export, welding & engineering, resort supply & customized tender works. Driven by our vision to build a diverse approach to management, product innovation and promoting cultural diversity in the line of our businesses, we have established a strong customer base made up of corporate clients and household consumers.

We strive for the perfect service to completely show our corporate image and products brand. Since the establishment of our company, we uphold our engineering division as the leading factor which has completed and contributed to numerous government and resort projects across the world.

Univac offers the widest range of hotel and resort  equipment & machines,  Room Amenities, Housekeeping Supplies from renowned manufactures to cater the needs of different departments of your resort or hotel operation. Within the short span of time, Univac is among the top suppliers of several internationally highest ranked hotel chains. Our products include F&B, Dry items, Housekeeping amenities and Hardware

The Univac Team are base at capital city of India in New Delhi head office. Composed of a panel of 12 highly qualified experts that are vital to supporting and following-up on the daily operations of the projects and line of businesses. Our diverse capability has let us share our best practice across the various industry sectors we operate and the range of services we provide. Univac is more than a vendor--we're your partner in keeping your property stocked with quality housewares for years to come. Our knowledgeable, friendly team includes experts in each department committed to providing the best experience for selecting, installing and maintaining your housewares package. What all of our operations have in common is a consistently high level of service and the dedication, enthusiasm and vibrancy of all our people.

Besides displayed Items we also  Manufacture and  Export

Our leisure products specializes in producing sections of the folding tent, advertising tent, aluminum umbrella, wooden umbrella, export export tent, Folding Arm Awning, luxury Celi umbrella, inflatable arch, ball and many other airborne products. We Can Supply Various Stable OEM-Quality Hammocks, Hammock Chairs and Hammock Stands, Baby Hammock, Pet Hammock...Beach Chair, BBQ, Outdoor Cooker, Camping Hammock, Camping Tent...Garden swing chair and any other metal items on orders. 

Since its inception, the strict control of product quality, developing trendy product variety, complete specifications, years, the company with quality products and good services, byour customers trust and support, the products sell all over the country and exported to overseas markets,Europe and America .

Vision:

Build – a diverse approach to management, product innovation and services

Promote – cultural diversity in the line of businesses

Mission Statement:

Create an innovative and personalized line of products for each specific market

Provide a cost effective service while maintaining quality of work and efficiency for customer satisfaction

Create a professional, dynamic and positive environment in support of the careers and development of our teams

Ensure sustainability and growth of all our segments through financial performance

Develop and extensive network to the benefits of our employees and clients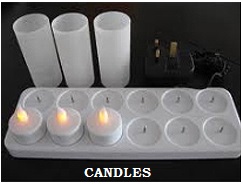 Flameless Candles are fire-safe battery-powered wax candles. An ingenious new technology allows flickering light to glow from within creating the appearance of a warmly glowing candle. The internal light source is a special lifetime LED Bulb which glows and flickers like a real fire-burning wick. Flameless Candles are so realistic you'll have to look twice to notice there's really no flame or hazard of fire.

Flameless Candles combine absolutely realistic wax exteriors with state-of-the-art flicking LED bulb technology which mimics the behavior of combustible candles without the danger. Flameless, battery operated candles, are wonderfully worry free. They can be placed near decorations, dried flowers, curtains and are safely reassuring near children and pets. Perfect for Spa, Restaurant, parties and Wedding receptions. So put away the matches and the annoyance of soot on walls and spilled wax on furniture.