We manufacture supply and export tailer made Gravity Dispensers, Custom gravity Bins, Confectionery Dispensers, Candy Dispensers, Ice Cream Topping Dispensers, Dry Food Dispensers, Bulk Food Dispensers, Cereal Dispensers etc. Besides the standard designs offered we undertake orders for custom made gravity dispansers. Bliss brand custom made beautifully designed ice cream and frozen yogurt topping dispensers, food dispensers offer a sense of elegance and utility that is unmatched in the industry.

Key Features:

Clear Acrylic / SAN plastic containers

Our approach? 

- Detailed Project Scope

- Cost Competitive Proposals

- Highly Detailed Shop Drawings

- Project Coordination and Communication

- Project Management Team

- Ability to Meet Your Project Schedule

- Knowledge of Materials and Processes

- Quality Finished Products

- 'State-of-the-art' Design and Manufacturing Technology

- Commitment to Best Possible Product within Budget

- Ability to Exceed Your Expectations

- Satisfaction Guaranteed

- Safe - does not alter or damage food particles

- Hermetically Sealed - preserves freshness for long time

- Very easy to clean

The artistically crafted gravity containers / bins, steel bases and frames create a system of dispensation that not only preserves the freshness of your products but also maintains their shape and integrity. The polished steel nozzles offer precise serving measurements that help keep waste down and costs low. Our high quality, commercial grade dispensers feature transparent acrylic canisters available in volumes ranging from 0.65-13 gallons, to display sprinkles, crushed candies and sweets, nuts, granola, and any other toppings your shop serves. These bulk toppings dispensers come in wall mounted as well as free-standing, table top, and carousel models, making them a perfect serving solution for yogurt, ice cream, frozen yogurt, and dessert buffets! No matter what your design aesthetic, Bliss dispensers will fit right in!

Our dispensers have found extensive applications in showrooms, markets, shopping malls, ice cream parlours, restaurents, hotels, modern kitchens etc.

Univac Furncrafts Pvt. Ltd.

Works : J-1, Industrial Area, Udyog Nagar, Rohtak Road, New Delhi, Pin code - 110041, India

Millwork Features

Number of designs from previous projects, or the availability to custom create your work of art!

Number of laminates to match or complement your store's look and feel

Variety of Paints / Stains

Environmentally friendly materials and finishes

Competitive pricing make these affordable

Our Tools of the Trade

10,000 square foot workshop

AutoCAD/Solid Works 3D Modelling software

Multiple Computer Aided CNC Machines for fast, laser precise cuts

Engineers, and Designers who take your ideas and turn them into reality.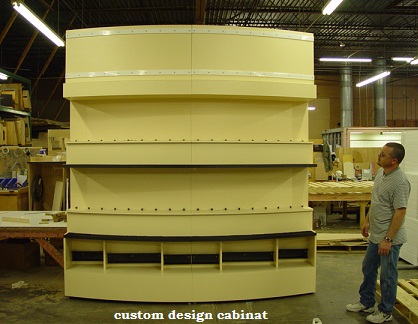 Gravity Dispensers : - "We dream our dispensers will be used in all the successful businesses across the world."

Gravity Dispensers are a new concept for Indian FMCG industry. While giving your customers the ability to see their foods may be a benefit to them, it can also help you to boost sales. This is because some customers may be more inclined to make a purchase through visual marketing efforts. The fact is that investing in an acrylic ice cream topping dispenser may be a great idea for your business. 

Univac Group India manufactures and exports wide range of gravity dispensers in the brand name of Bliss. Ice Cream Topping Dispensers, Candy Dispensers, Dry Food Dispensers, Cereal Dispensers and Snack Dispensers are Univac's expertise but on demand can develop dispensers for other uses also. Univac Group India is one of the leading company established in the year 1997 by an experienced Mechanical Engineer-Enterpreneur Mr. Ashok Kumar Srivastava initially at Vatva Industrial Area, Ahmedabad (Gujarat) as partnership firm that converted into a private limited company in the year 2003 with its registered office at New Delhi. 

Heatures & Advantages :-

* Portion Control function reduces food waste

* Easy installation-No need to build costly shelves

* Wall Mount bracket designed to withstand up to

  15kgr

* First In- First Out product rotation ensures

  freshness

* Clear Design al the way to the top for excellent

  product visibility

* Air tight lid and Silicone Bottom Tap seals 100%

* Made of Virtually unbreakable food grade

  Acrylic / Polycarbonate

* Easy to clean-commercial dishwasher safe

* Ideal for Dry & Flowing products & Powders.

* Delivered with price tag for product details

* Custom capacities available up on request