Univac Biochem











Univac Biochem

F-10, Industrial Area, Udyog Nagar,

Rohtak Road, New Delhi - 110041;

India;   Tel : +91-11-4571 8480;

Email:univacgroupindia@gmail.com

Chemicals :-

Successfully catering to the needs of chemical and other industries, Univac Biochem started its business operation in the year, 2001. Ever since our inception, we are performing consistently and offering unmatched quality products to our clients. We are the Authorize dealer and Exporter of a comprehensive range of Agro chemicals, Indusrtial Chemicals & Acids such as Aluminum Chloride, Caustic Soda, Soda Ash, Sodium Bicarbonate, Formic Acid, Tricalcium Phosphate, Trisodium Phosphate, Bleaching Powder etc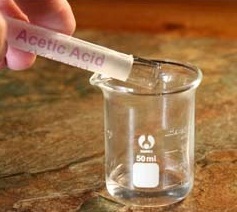 Glacial Acetic Acid -

Acetic acid, a petrochemical derivative, is one of the important carboxylic acids. It is a colourless and corrosive liquid. Available with us is a range of Acetic Acid, one of the widely used chemicals offered by us. Acetic acid and its derivatives are widely used in chemical, pharmaceutical, food processing and printing in textile industries.

Our vendors ensure that these are scientifically tested before being delivered. Some of the features of acetic acids are accurate composition. *Acetic Acid is used in textile industries for textile processing and printing.

Specification -

Acetic Acid


99.85 % min. by wt.
Water



00.15% max.
Colour                            10 APHA max.

Formic Acid

          0.05 % max. by wt.
Acetaldehyde

       0.05% max. by wt.
Heavy Metals as Pb        Less than 2 ppm

Iodides

                 40 ppb max.
Permanganate

     2.00 hrs. min.
Specific Gravity

    1.049 at 25 deg C
Viscosity      

        1.22 mPa·s at 25 °C
Packaging and Supply - In Stainless Steel Tankers. In 30 kgs(Net). HDPE Carboys.

                                          250 kg HM-HDPE Barrels

TOLUENE DI- ISOCYANATE (TDI 80:20) : -

Specifications -

Apperance


                                   clear liquid
APHA colour, max.

                                25
Sp. Gr. (at 20°C / 20°C)

                        1.22 ± 0.02
Purity (% by wt.), min.   

                        99.7
Isomer Content (% by wt.) -

2,4 TDI      





    80 ± 1
2,6 TDI



                               20 ± 1
Total Acidity (ppm. by wt), max.

              40
Hydrolyzable Chlorine (ppm.by wt.), max          80

Total Chlorine (ppm. by wt.) max.

           700
CAS No.

                                                 584-84-9
UN No.

                                                   2078
Haz. Class   

                                          6.1
IMDG code page

                                    6269
Coating • Adhesives • Sealants • Elastomers

Packaging and Supply :  250 Kg net in new steel drums / Tankers

Uses :-

• Flexible polyurethane foam (moulded)

• Mattresses, Pillows & Quilts

• Furniture cushion

• Automobiles: Seats, Furniture, Lining, Sun visors etc...

• Padding & Lining: Garments, Shoes, Diaries, Carpets, Brief Cases,     Bags, Purses etc.

• Acoustic Insulation

• Industrial Gaskets

• Protective pads for Sports & Medical use

• Industrial, Automobiles & Household Filters

• Paint Rollers

• Packing: Electronic items, Frozen Foods, Medicines,

  Audio-video Computer CD's

• Applicators: Shampoos, Wax, Shoe Polish, Household Chemicals

• Cleaning Tools for pipelines and tubes

• Miscellaneous: Toys, rakhi etc.

• Any type of cushioning

• C. A. S. E.

Acetic Acid is available in three grades as follows :

1. Technical (Commercial) : 98.0% purity

2. Pure (Glacial) : 99.5% purity &

3. Analytical Reagent : 99.7%

HS CODE

: 291521
CAS No.

  : 64-19-7
UN No.

   : 2789
Global Acetic Acid Market is expected to reach USD 13.31 billion by 2022

Formula:

: CH3COOH
Molar Mass:     : 60.05 g / mol

Density:

  : 1.049 g·cm-3 (l)
                      & 1.266 g·cm-3 (s)

Freezing Point   : 16.4 deg C

Melting Point       :16.5 °C

Boiling Point        :118

Acidity (pKa)       : 4.76 at 25 °C

Solubility in Water: Fully Miscible