Boost your SALES with Bliss Dispensers :

We have formed very close and personal relationships with business owners, new and experienced, of all sizes and from every corner of the earth. It is always exciting for us to see a food store, a shop or a local business transformed by the Bliss dispensers. We are proud  that our dispensers have granted our clients the ability of serving their customers in the most professional way, all while transforming their store into a beautiful place of business.

Our Bliss brand dispensers are beautifully designed grain / candy containers offer a sense of elegance and utility that is unmatched in the industry. Keeping in mind the variant requirements of our clients, we are engaged in offering a wide range of custom made Grain / Candy containers / Dispensers. The artistically crafted acrylic containers, steel bases and frames create a system of dispensation that preserves the freshness and integrity.

Table top Candy dispensers :

Take advantage of acrylic gravity dispensers which will allow you and your customers to see all the goodie's they have to choose from. Deluxe freestanding stainless steel dispenser is perfect for snacks, cereals, natural foods and more! The stylish design adds to any decor and keeps the dispensing area hygienic, clean and organized. Bliss dispensers are cost effective and keep your contents fresh while reducing waste!

1 oz. portion wheel perfect for dispensing different kinds of cereal as well as cereal toppings such as raisins and nuts, candy, and other dry goods.

BLISS CANDY DISPENSER STATIONS :- Bliss Candy dispenser stations are perfect match for any large candy store. High quality commercial-grade acrylic candy display containers allow you to show off your products while keeping them perfectly fresh. The transparent acrylic holders are placed within sturdy protective steel frames on a steady base. The polished steel spout is also a perfect serving machine. With a turn of the nozzle, the patented scoop mechanism ensures that a precise amount of sweets will be served from the sweet dispenser every time. These commercial candy dispensers enhance your candy, ice cream, or frozen yogurt shop with eye-catching display of colorful candies and jelly beans. Our dispensers allow you to elegantly display your goods in easily cleanable containers designed to preserve freshness, reduce waste, and eliminate costs associated with spillage and over-pouring. Available in free-standing and wall-mounted options that can support up to five canisters, Bliss candy and jelly bean dispensers feature a sleek profile that will enhance your display while saving space!

GD 121 -18 stn.  Candy display station

Custom made design supplied strictly on orders after virtual site survey. Price per station is 2140 $ / Rs.1,50,000/-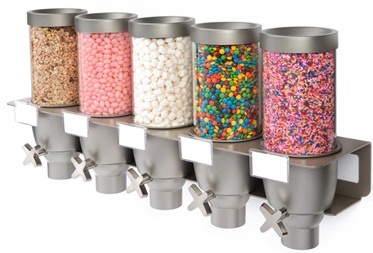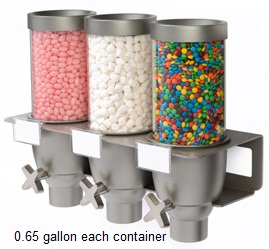 * Candy Dispensers, Coffee & Tea Dispensers, Salad Topping Dispensers, Spice Dispensers, Topping Dispensers. Clear and elegant acrylic containers beautifully display your product. Wall mounted function helps you save space and freshens up your décor.  Dimension: 29X7X15.25 H, 0.65 Gallon each.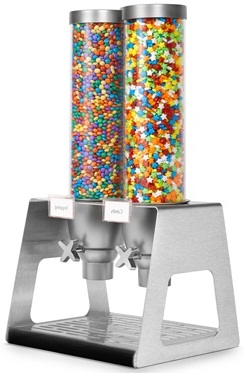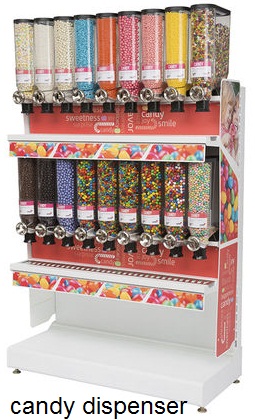 GD 127 - 299 $ -  3 stations

                    wall mounted

Candy Container Station             GD 122 - 1995 $

         10 continers with scoop bins attached

Candy Bins :

This is one of our newer bulk candy & toppings bins, made for stacking. The size measures 31.25"wide x 6"deep x 6"high. This bin is made from clear acrylic, and comes with or without dividers. The bin version shown below comes with 5 dividers & 6 scoops - one for each compartment, and features 3 hinged lids. We can customize this bin to any size & number of scoops, lids & dividers needed. Please call for details and quote.

All of our candy bins are made from FDA approved material.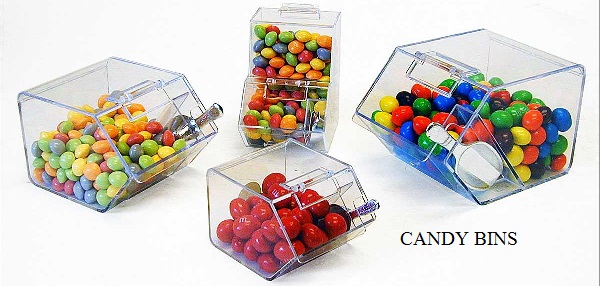 GD 127 - 299 $ -  2 stations

                  Table top model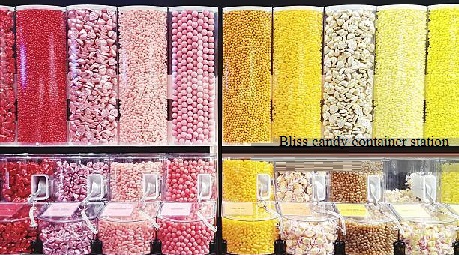 GD 125 - 499 $ -  5 stations

                    wall mounted

SB 100 - Rs. 4500/-            US $ 63.95 $        (ANY ONE MODEL)








UNIVAC FURNCRAFTS PRIVATE LIMITED
Works: J-1, Udyog Nagar Industrial Area, Rohtak Road, New Delhi - 110087, India;  Tel:+91-11-4914 7858,

        Tel: +91-11-4571 8480,  +91-11-4512 8932;    Mobile & WhatsApp: +91-81304 71841;  +91-95555 34055