Product Details

Brand-name Parts

Country of Origin

Distributorships Offered

Experienced Staff

International Approvals

Packaging

Price

Product Features

Product Performance

Prompt Delivery

Quality Approvals

Reputation

Service


GD - 107 - 239 $

Large size dispenser

capacity - 5 kg


Gravity bins bring you style and ease when it comes to dispensing dry goods to your customers! Free-standing dispensers balance premium natural walnut trays with tall acrylic cylinders and steel frames to create impressive product visibility, distinctive design elements and contrasting vertical presentations- The Bliss cereal dispensers will keep your cereal fresher longer for the next service and is easy to clean. Easy to move and lightweight dispenser perfect for buffets and stores. A gravity bin can provide a cleaner way to dispense your products to customers. Choose from various sizes and styles to fit your needs. From space saving slim-line gravity bins to wide and/or tall gravity dispensers, you can take advantage of our wide selection of these acrylic containers.

Customise the size, model and amount of bulk dispensers to create a solution that best suits your store's needs and opportunities. Gravity Bins are flexible fixtures you can move to where the action is. In addition, gravity bins are great because there is no need to open a bin to dispense product or to keep up with or clean scoops on a daily basis. This saves you money on payroll since you do not have to pay employees to do these tasks.

Most importantly they keep the product safe and help ensure that customers will not touch food with their bare hands that will be purchased by other customers. The overall result is a fresher, safer product and customers who will return time and time again for a product that they can trust.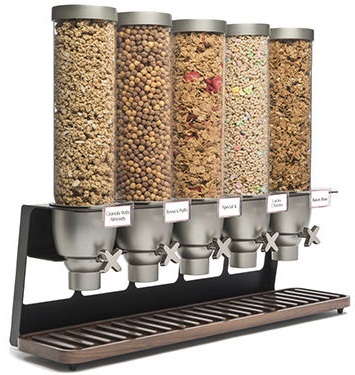 GD 110 -  5 STATIONS  - 999 US $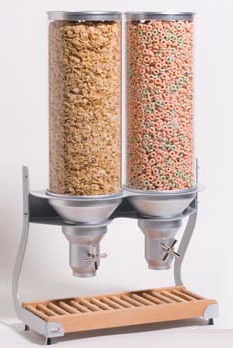 GD - 109 - 469 $

  Large size dispenser - each container is 2 gallon capacity with stainless steel frame.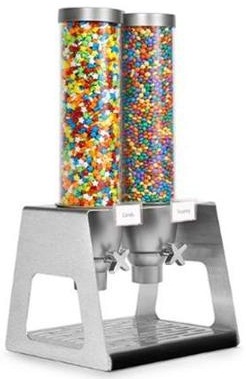 GD - 106 - 479 $

Stainless steel Table top cereal dispenser  each container is 2.6 gallon capacity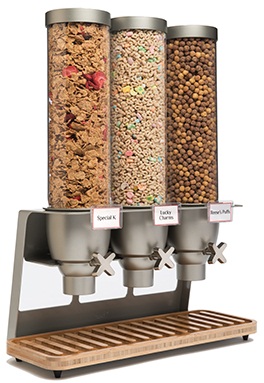 GD 108 -  Table top model - 689 $

natural bamboo trays with tall acrylic cylinders and steel frames to create impressive product visibility,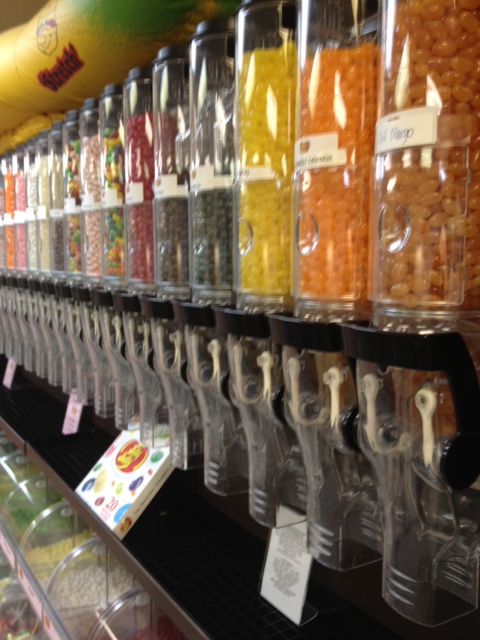 GD - 100 - Price per station 199 $

     Multi stations Grvity dispenser

       custom built wall mounted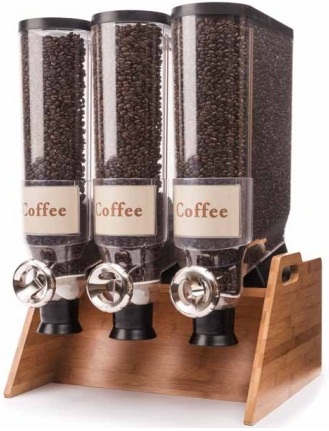 GD 105 - TEA / COFFEE DISPENSER

                       675 $

                  table top model

         GD 101 - 5 STATIONS





          GD 102 -  3 STATIONS


GD 103 - 2 STATIONS           GD 104
                      899. US $






               550 US $




     389 US $

             199 $
          ..................................................................... wall mounted models ....................................................................









UNIVAC FURNCRAFTS PRIVATE LIMITED
Works: J-1, Udyog Nagar Industrial Area, Rohtak Road, New Delhi - 110087, India;  Tel:+91-11-4914 7858,

        Tel: +91-11-4571 8480,  +91-11-4512 8932;    Mobile & WhatsApp: +91-81304 71841;  +91-95555 34055