Keeping in mind the variant requirements of our clients, we are engaged in offering a wide range of Ice Cream Dispensers.organize all your ice cream and frozen yogurt toppings with these candy dispensers! With a topping dispenser, your customers are sure to enjoy all of the ice cream candy toppings they need to create the perfect sundae or frozen yogurt. These dispensers are attractive enough to display behind your business counter or to merchandise candy front-of-house! Read more

Product Details

Brand-name Parts

Country of Origin

Distributorships Offered

Experienced Staff

International Approvals

Packaging

Price

Product Features

Product Performance

Prompt Delivery

Quality Approvals

Reputation

Service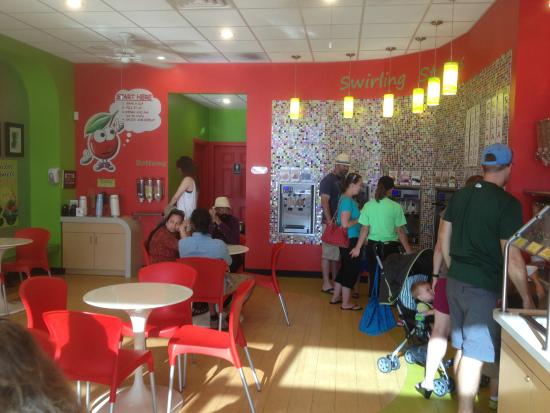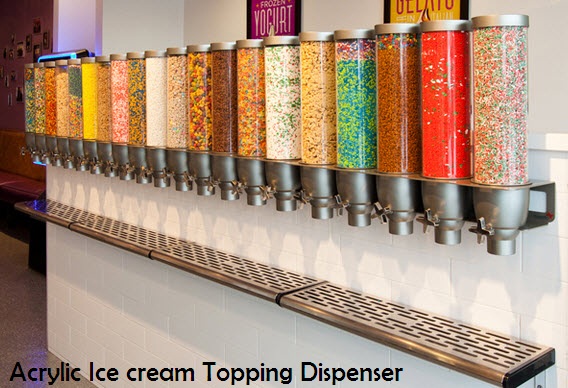 How to Use Your Dispenser

Many restaurant owners and managers believe that bulk food dispensers, such as an acrylic ice cream topping dispenser, are suitable for use in candy stores only. However, you can easily invest in several of these for your ice cream or frozen yogurt shop.

Your customers can browse through the available toppings and can make their decision while they wait in line. This can save your restaurant time by promoting efficiency with food preparation, and it can help your customers to be more satisfied with their final menu selections.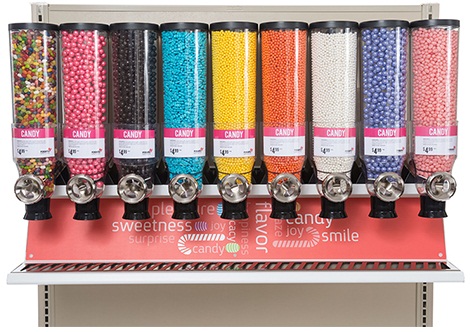 GD 128 - MULTI STATION ICE CREAM TOPPING SOLUTION

          US $ - 150 - PER STATION - WALL BRACKET MOUNTED

                 GD 131 - multi stations Ice cream topping solutions

                          US $ - 175 - per station - wall mounted

                          Capacity: 12 Lt each container

Wall mounted Ice cream topping dispensers installed directly at your unit. Stainless steel frames with crystal clear acrylic containers supplied with cup plate at bottom.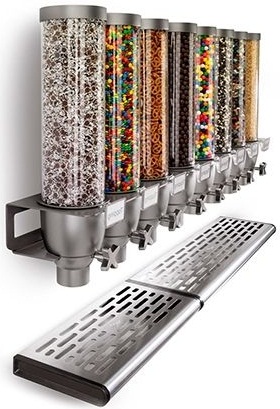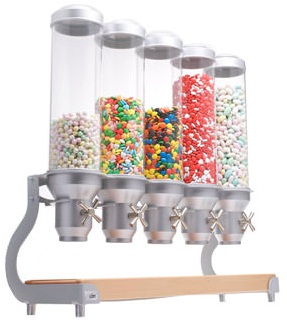 GD 129 - multi stations Ice cream topping

   US $ - 175 - per station wall mounted

      ranges between 5 to 18 stations

  GD 130 - 5 stations Ice cream topping

   US $ - 999 - per station table top

  GD 132 - 6 stations carousel table top

                     US $ -  1350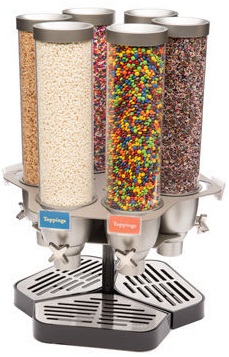 Ice Cream Topping Dispensers  : -

Bliss's beautifully designed Ice cream and frozen yogurt topping dispensers offer a sense of elegance and utility that is unmatched in the industry. The artistically crafted acrylic containers, steel bases and frames create a system of dispensation that not only preserves the freshness of your products but also maintains their shape and integrity.

Keep Your Ice Cream Toppings Organized and Sanitary with these Candy Dispensers.

Avoid messes and effectively organize all your ice cream and frozen yogurt toppings with these candy dispensers! With a topping dispenser, your customers are sure to enjoy all of the ice cream candy toppings they need to create the perfect sundae or frozen yogurt. These dispensers are attractive enough to display behind your business counter or to merchandise candy front-of-house!

Choose the ice cream topping dispenser that's right for your business! We offer dispensers with one or multiple compartments in a variety of configurations as well as canisters, condiment bins, pumps, topping bars, and more! Outfit your convenience store or mall kiosk with candy dispensers to attract customer attention with bright colored treats. If you'd rather have a wall-mounted candy dispenser as opposed to a countertop model, we have you covered with multiple models to choose from!









UNIVAC FURNCRAFTS PRIVATE LIMITED
Works: J-1, Udyog Nagar Industrial Area, Rohtak Road, New Delhi - 110087, India;  Tel:+91-11-4914 7858,

        Tel: +91-11-4571 8480,  +91-11-4512 8932;    Mobile & WhatsApp: +91-81304 71841;  +91-95555 34055