Gravity Dispensers : -

Univac Group India manufactures and exports wide range of gravity dispensers in the brand name of Bliss. Ice Cream Topping Dispensers, Candy Dispensers, Dry Food Dispensers, Cereal Dispensers and Snack Dispensers are Univac's expertise but on demand can develop dispensers for other uses also. Univac Group India is one of the leading company established in the year 1997 by an experienced Mechanical Engineer-Enterpreneur Mr. Ashok Kumar Srivastava initially at Vatva Industrial Area, Ahmedabad (Gujarat) as partnership firm that converted into a private limited company in the year 2003 with its registered office at New Delhi. 

"We receive many enquiries from our clients requesting custom-made dispensers to be manufactured in accordance with their special and unique requests. Some clients seek dispensers very different from our normal and standard dispensers and ask for custom-made dispensers in different sizes (lengths, weights and volumes), different colors, different mechanisms and many other custom fitted requests. We udevelop custom designed dispensers on demand for topping, cereal, dry fruits, food and many other items.

Custom Size Dispensers

We are able to develop and manufacture our dispensers in many different sizes and volumes in accordance your special requests. Univac enables its clients to control the storage capacity volume of their custom made dispensers. We are proud to be able to custom fit our dispensers with your specific need. Our specialty and passion is developing and manufacturing dispensers to fit your exact business needs. We will gladly assist you with your enquiry or request and look forward to your call.

All the custom built gravity dispensers are wall mounted and the cost quoted above are Ex-works and with the onsite free isntallation charges.

Univac has manufactured and supplied Wall Mounted Dispensers from Single container to as many as 30 containers and can develop even more upto 60 containers depending upon the space on walls available at customers' place.

Univac manufactures Table Top Dispensers from Single container to 5 containers. More than 5 containers are  generaly not recomnded for table top models. All of our Table top dispenser models are manufactured on stainless steel bases.

The storage capacity of the containers vary from 1 liter to 12 liters and accoridngly the prices of each container varies from Rs.9500/-to Rs.14500/-for the dispensers built with Acrylic containers and Rs.12500/- to 20500/- for the dispensers built with Polycarbonate containers.

All the wall mounted dispensers Univac manufactures are tailor made.

Delivery time of dispensers varies from 15 days to 45 days depending upon the availability of components.

Univac does not stock dispensers readymade and manufactures against the orders only.

The orders are accepted with minimum of 50% advance payment and the balance to be paid before dispatch.

Features & Advantages

Including wooden shelves & stainless steel frame

Complete P.O.S. for Nuts, Candies, Coffee Beans, Spices, including: Illuminated header,

Dispensers, Scoop Bins or Tubes, Scoop holders and Scoops , Bag Holders.

We provide custom made fixtures or stands according to your budget , space layout and product specifications

Extensive range of different material and colors to choose from

Services-

Univac is committed to deliver a complete solution for your bulk food merchandising requirements from concept to final design and installation which will compliment and fit with your overall store ambience. * Design & Deveopment cost as actual will be payable by the customer  before the work bigins.

Our understanding of bulk foods and the challenges of merchandising the various product categories allows us to offer an extensive line from standard products along with custom designs to meet our customers' individual requirements.

Univac offers complete solution i.e. design and build of your shelf cabinetry to suit your requirements. We can also work with your preferred fixture manufacturer to create a cost effective solution that will compliment our bulk bins and your overall store design, whether they manufacture wood, steel or any other type of fixture.

Contact us now to experience a true partnership to assist you in creating your new Bulk Food Departmental Store, which will not only look great, but will generate increased sales and profitability.

Parts Service:-

Univac holds a total parts inventory that will ensure replacement parts or additional components can be dispatched within 2 working days of receipt on a global basis. This service is web based.

Training

Depending on locality Univac will follow up to ensure store personnel are fully trained in the assembly and disassembly of units as part of the hygiene maintenance program.

Training videos and laminated wall charts will also be provided showing the Univac system in action along with a step-by-step process of disassembly and re-assembly for cleaning purposes and maintenance.

Delivery

Depending on the type of shelf option you choose these may require a limited amount of assembly. Full instructions will be supplied with whichever option you choose, or alternatively Univac or its representatives can be on hand to assist in installation if required.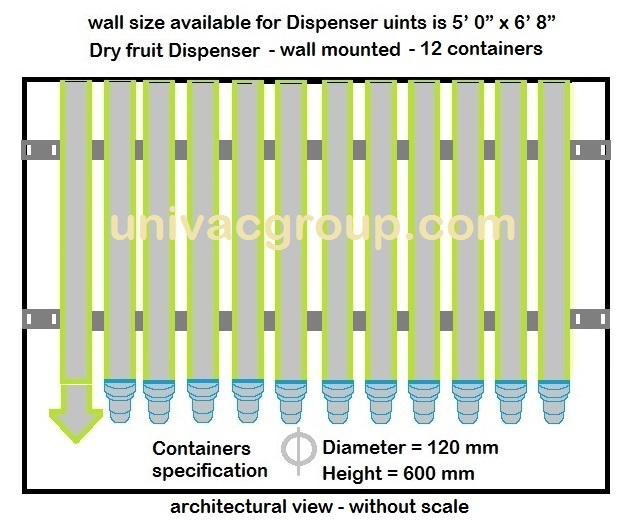 Custom Design

Design the dispensers in special and unique colors. We can design the different parts of the dispensers (plastic, metal) in a variety of different colors and textures in order to fit your specific enquiry. Many businesses make enquiries for dispensers with their company's identifying colors, enabling them to achieve the dispenser of their dreams.

<<< The wall mounted 12 containers dry fruits dispenser is under production at works.

Univac Group India.









UNIVAC FURNCRAFTS PRIVATE LIMITED
Works: J-1, Udyog Nagar Industrial Area, Rohtak Road, New Delhi - 110087, India;  Tel:+91-11-4914 7858,

        Tel: +91-11-4571 8480,  +91-11-4512 8932;    Mobile & WhatsApp: +91-81304 71841;  +91-95555 34055