Product name: candy /gravity bins bulk food dispensers

Capacity        : 19L,  


  13L,   


8L
Weight

:  6 kg             

5 kg


  4 kg

Size

    : 34*15.2*71cm ,        34*15.2*57 cm,       34*15.2*43.5 cm
Price

   : Rs. 9950/-               Rs.8950/-

    Rs.7950/-

Material

: PC and PCTG
Brand Name  : BLISS

Color

   : Transparency, Black/Green/Red/Orange

Feature

: Eco-friendly
Made for

:Supermarket , Stores and Shops
HS code

:3926909090
Bulk food dispenser main features:

1.Flexible and lightweight and can be displayed on shelf in multilayer;

2.Almost unbreakable polycarbonate body with high transparency,

  not  easy to broken and environmental;

3.Well sealed arrived 90% ensure food  freshness and avoid be affected       with damp and corrosion;

4. Easy to clean and install;

5. Equipped with the base stand to fix it on the shelf;

6. Moderate fiowing rate control to reduce food waste and spillage;

7. FDA Approval and SGS certificates of PC material;

8. Perfect for any free-flowing food used;

MOQ: Minimum Order Quantity - 6 pieces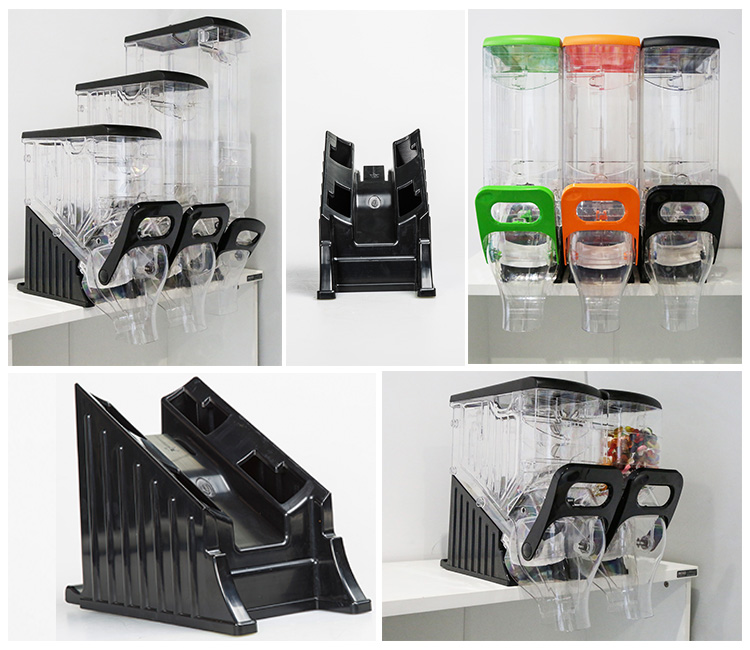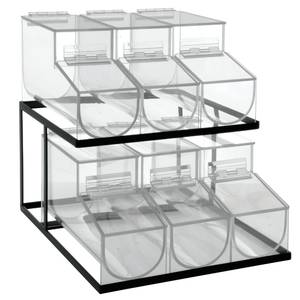 Scoop bins  - SB 01 - Rs. 4995/-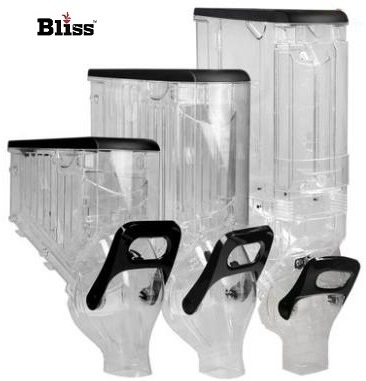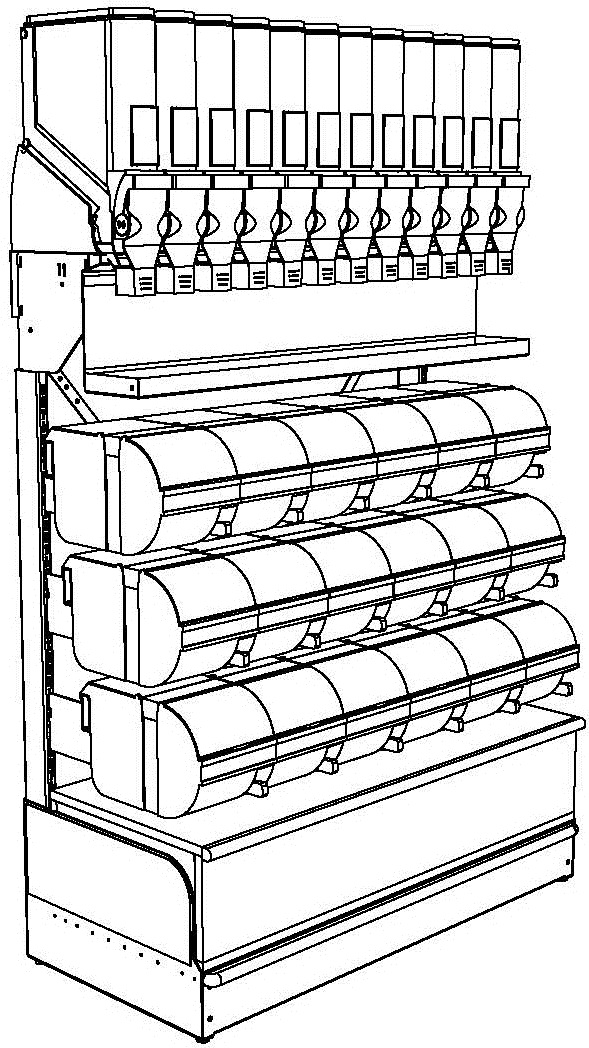 We design your own display stations as per your requirement-

10cm plastic bulk Gravity bin dispenser

Display Collocation: Hook or Base

Display Mode: Equipped with the metal bracket to hang or cross baror on the wall or stand it on the shelve board through the base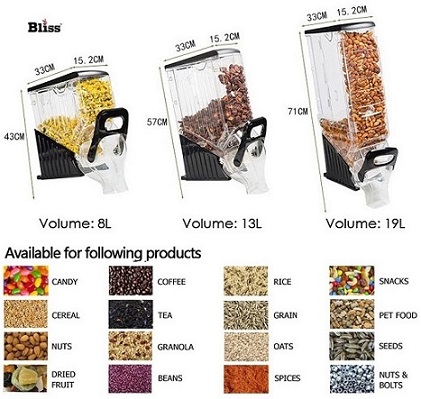 Scoop bin Features: They fit on top of each other to stay in place. No need for screws. Clear acrylic body and sides for excellent product vissibility. Roll top door for easy operation. Sides and dividers welded. Several sizes available to fit any space dimensions.

Complete Your Grocery Store with a Bulk Food Display & See Your Grocery Store Creates No Packaging Waste

Univac provides innovative merchandising bins, fixtures, displays and bulk department supplies worldwide. Add Fun to Your Grocery Store. Bulk food Display Bins are the latest trend in the world and a must for any grocery store. They provide you with better profit margins, while giving the customer savings and an incentive to buy more. They help the environment with reduced waste.

Gravity bins offer great product visibility in a hygienic closed system. They are made of virtually unbreakable material approved to use for food. The bins are dishwasher-safe, easy to clean. With these bulk bins, you'll have a gravity bin mount, a specially made crumb tray that is easy to clean and a scoop hanger. It also provides space to include other products, minimizing the impact adding bulk foods have on shelf space.  Standard flow control and ergonomic handles ensure an optimal shopping experience and help to reduce shrinkage. An efficient and innovative design makes cleaning more intuitive and easy to do. Univac Furncrafts cuts out the design work with complete bulk food displays.

While most of the shops still use standard shop fittings in today's retail environment, most big name brands are increasingly focused on sourcing custom made merchandising and shop fittings to help them provide a unique shopping experience for their customers and to help their brand stand out from the crowd. Branding forms the identity of a business and is the process of connecting consumers with products. Many customers determine their purchasing decisions based purely on their connection with your brand. Be one step ahead of your competitors by empowering your brand at the crucial point of the purchasing decision, in store right at the merchandise location.

Specifications:

Width

8" (20cm)
Height

13" (33cm)
Depth

13" (33cm)

Capacity

     3.25 gal (12L)
Pinto Beans

18.2 lb.
Jelly Beans

  22.1 lbs
Cereal dispenser, nuts dispenser, grain dispenser, bulk food dispenser, dry food dispenser, gravity bins, gravity dispenser, candy dispenser, coffee bean dispenser,

MOQ: Minimum Order Quantity - 6 pieces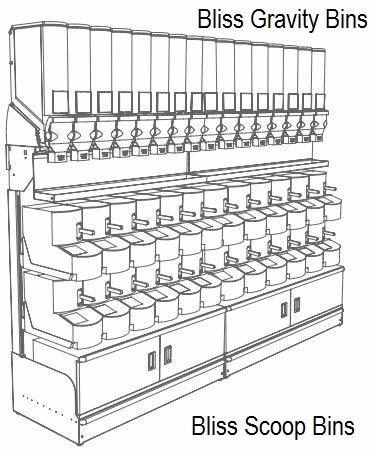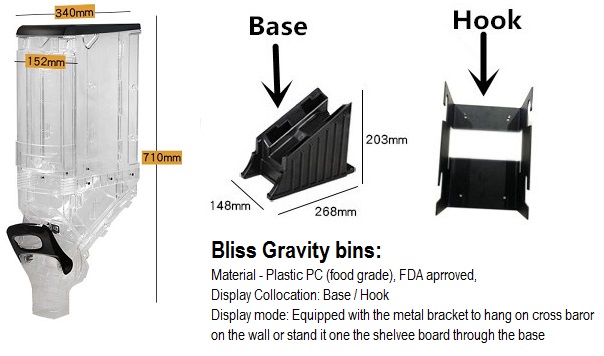 Specially designed Bliss Gravity feed bulk dispensers for retail grocery stores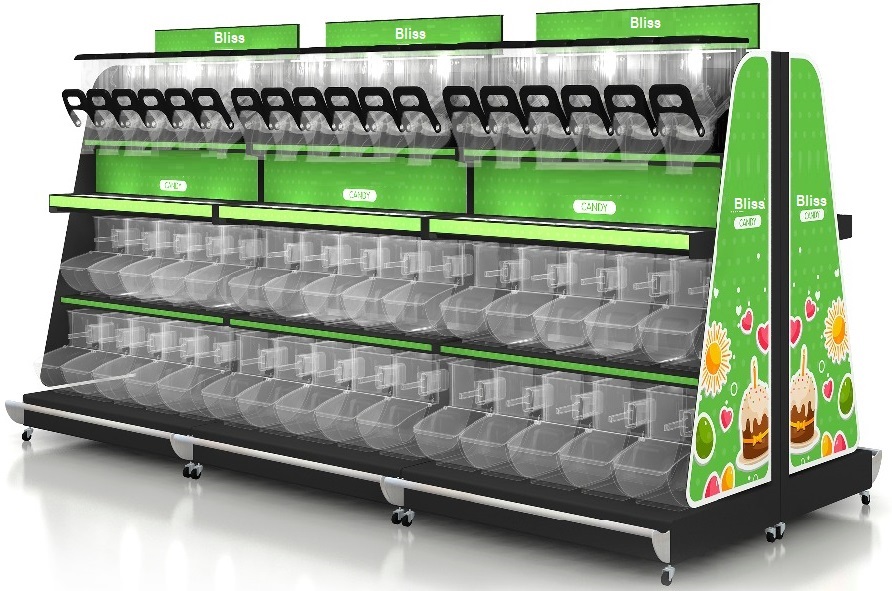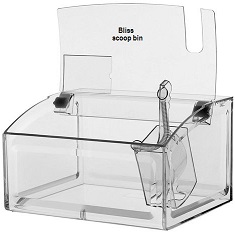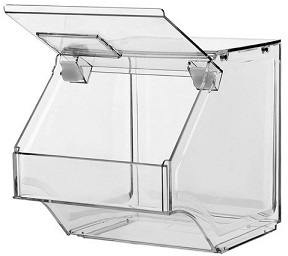 Bliss scoop bins -   MOQ 06 pieces


SB 02 - Scoop bin Rs. 4295/-

Size: 20 x 18 x 18 cm - 6 L








  SB 04     Rs.5950/-

Size: 20 x 40 x 33 cm - 13 L

<<< This Versatile Cylinders are an excellent display for your store. Easily placed on your shelves or on the counter or underneath your dispenser group for non flowing or sticky products (jellies) will complete your bulk food display. Made of durable clear acrylic for excellent product visibility. Doors are heavy duty and functional for continius operation. Holders will keep them in place creating an impressive yet functional showcase.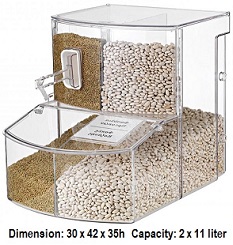 Scoop bin Model SB 06 >>>

Scoop bin l-shaped with fifo function for continuous recycling of your products. It is fired with an internal false front to look always full of product. It is ideal for large scale foods such as legumes, rice, but also flour and cereals. Suitable also for petfood.

Features: Scoop Bin 2 arrangments with FIFO function for continius recycling. Comes with 2 doors 1st for refilling and 2nd for service

This bins are perfect for a stash of jelly beans. Use the scoop to dole out the contents. The hinged lid provides easy access and helps preserve freshness.





                                 SB 10 - Rs. 7995/-

    Newly developed Round shape Scoop bin, Capacity: 7 liter                        Dimensions: L: 35 x W: 18 cm


SB 06 - Scoop bin Rs. 5295/-
                Capacity: 22 L









  SB 05     Rs.3750/-

Size: 20 x 18 x 18 cm - 6 L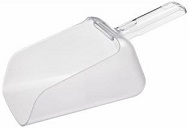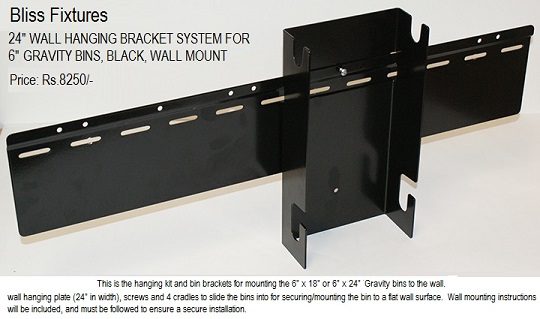 GBS 101: 18 x 2 = 36 Gravity bins (8 L), 15 x 4 = 60 Scoop bins

                         Rs. 6,14,995/- (9798.95 US $)

16 Gravity bins with 24 Scoop bins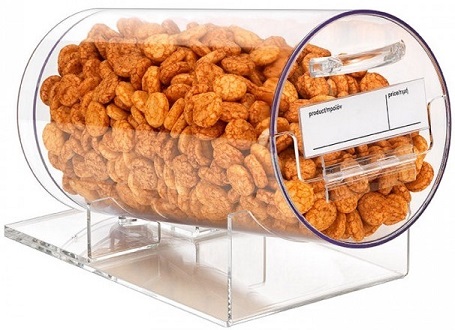 Univac Furncrafts Private Limited

  Works: J-1, Udyog Nagar Industrial Area, Rohtak Road, New Delhi-110041, India

Tel: +91-11-4914 7858, +91-11-4512 8932;  Mob: +91-81304 71841,  +91-95555 34055

        Email:
univacgroup@gmail.com

Website:
www.univacgroupindia.com
FIXTURES:-

We Build Custom Length Store Aisles with Wholesale Bliss Shelving:-

Build any length retail store aisle with Bliss starter units and add-on units. It's easy! Begin each aisle with a starter and add the number of 48" add-ons you need to create the size aisle you need. As an example, if you need a 24-foot aisle, begin with one starter and add four add-on units. Univac offer variety of Bliss shelving units in various colors and trims to suit your needs, whether you're a convenience store, a hardware store, or any other retailer. The shelving unit in platinum laminate will give your convenience store a light touch. All Bliss shelving units are known for it's strength and durability as well as it's simple assembly.

Buy Bliss Shelvings for building of The Finest Retail Stores in your Town:-

Designed with grocery and convenience stores in mind, Bliss store shelving system is easy to see over and has a high product capacity. You start with an easy-to-build single-sided starter unit. The pegboard is a matching platinum color made with durable laminate, which guarantees long life. The pegboard panel is 1/4 thick-tempered hardboard. Platinum not your favorite? We have other colors available. The slotted steel uprights support shelves that can hold up to 500 lbs. each, ideal for heavy wine bottles or other products. Total weight capacity for each 48" wide unit is 1250 lbs. The starter and add-on units come with all parts required for assembly. Matching metal Bliss shelves are sold separately.

How to Order Gondola Retail Display Shelving Using Specifications:-

This display system is sold in two different forms. The starter unit is 48W x 54H x 19D bases, and can be assembled in minutes. To extend the width, just attach one add-on unit or more. With a single add-on unit, you can make your display 8 feet long; with two, 12 feet long; and so on.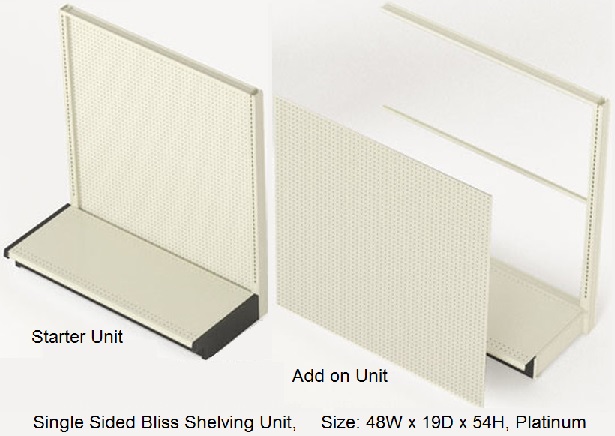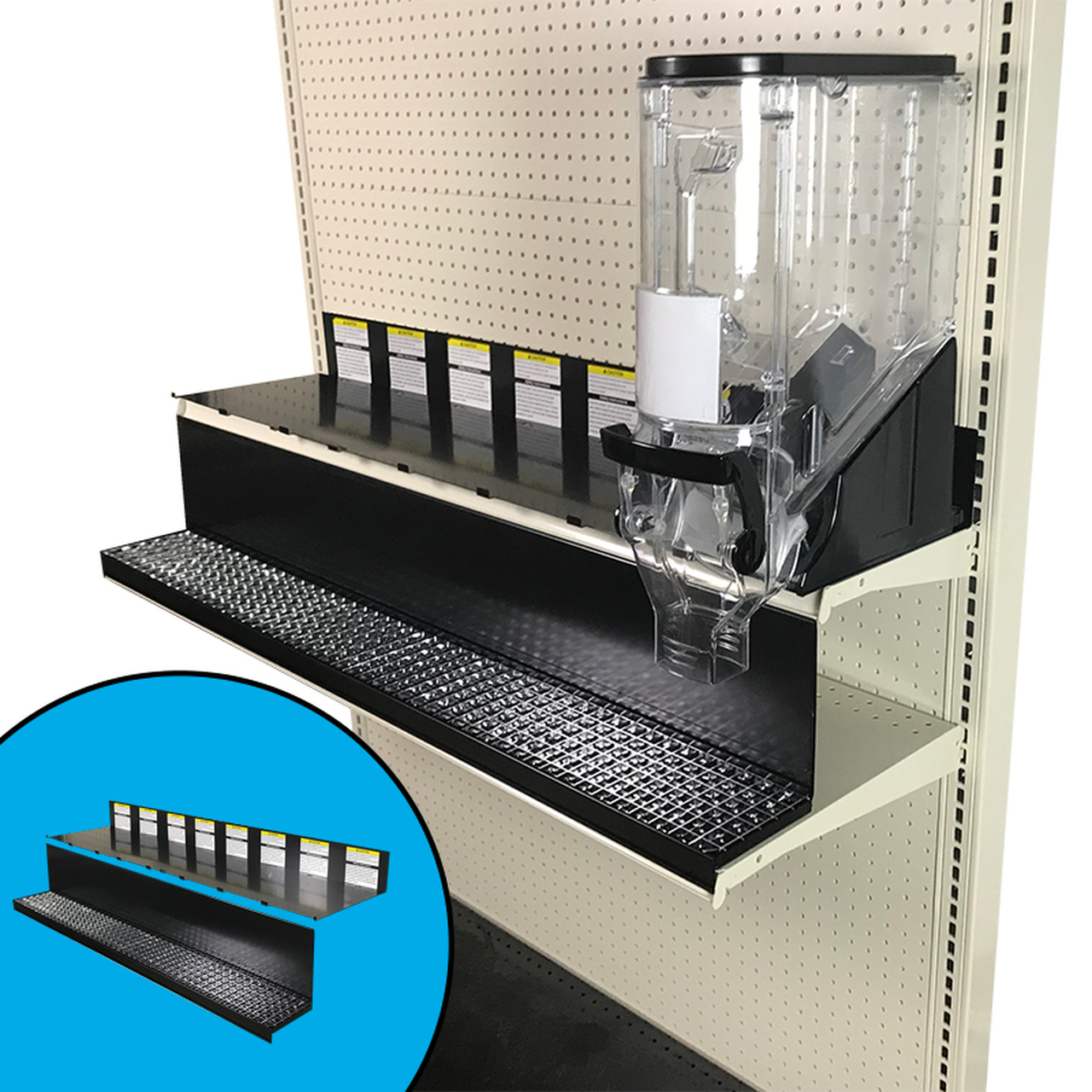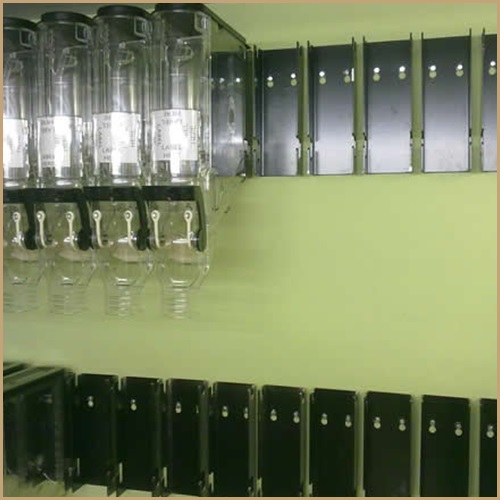 Price: 150 $  / Rs.10,500/-